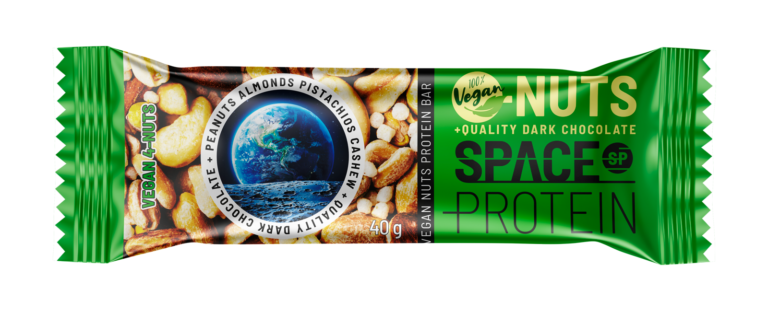 Protein bar with peanuts, caramel pieces and soya crispies in dark chocolate. Gluten-free. With sugars. 40g.
Ingredients
Salted peanuts 46%, cashew nuts 18%, glucose syrup, dark chocolate 8% (cocoa mass, sugar, fat reduced cocoa powder, cocoa butter, emulsifiers: soya lecithin, polyglycerol polyricinoleate; extract Bourbon vanilla), glucose-frukctose syrup, caramel pieces 5,8% (sugar, glucose syrup, water, butter, cream, salt, raising agent: sodium hydrogencarbonate), soya protein crispies 1,8% (soya protein, tapioca starch, salt, stabiliser: calcium carbonates), rapeseed oil, emulsifier: sunflower lecithin; salt. May contain other nuts.
Bílkovinová tyčinka s arašídy, karamelovými kousky a sójovým bílkovinovým extrudatem v hořké čokoládě. Bez lepku. S cukry. 40g.
Složení
Solené arašídy 46%, kešu ořechy 18%, glukózový sirup, hořká čokoláda 8% (kakaová hmota, cukr, kakaový prášek se sníženým obsahem tuku, kakaové máslo, emulgátory: sójový lecitin, polyglycerolpolyricinoleát; extrakt Bourbon vanilky), glukózo-fruktózový sirup, karamelové kousky 5,8% (cukr, glukózový sirup, voda, máslo, smetana, jedlá sůl, kypřící látka: hydrogenuhličitan sodný), sójový bílkovinový extrudát 1,8% (sójová bílkovina, tapiokový škrob, jedlá sůl, stabilizátor: uhličitany vápenaté), řepkový olej, emulgátor: slunečnicový lecitin; jedlá sůl. Může obsahovat sóju.